Treemont Health Care  has a full range of services all on one campus including Nursing & Rehab and Assisted Living. Residents who have a health setback, a hip or femur fracture, a heart attack or UTI, often go to the Treemont Health Care Center (HCC) for care. What sets Treemont HCC apart is its top notch therapy team that helps resident recovery, helping them get healthy, independent and return home. Residents who work hard and achieve their rehab goals are acknowledged in a Certificate of Rehab Achievement Ceremony. Here's what nursing homes in Houston residents say about their rehab experience.
Tommi:  I fell and broke my hip, so I went to the hospital and they glued me back together. I was treated well in the Healthcare Center. I've been in therapy learning to walk again and successfully returned to Treemont Independent Living.
Shirley: I was in the Treemont Health Center, and it was superb. I went there because I had a stroke. The doctors were wonderful; the nurses were very sympathetic and well-trained. It was a wonderful stay over there.. I highly recommend it to anyone that needs medical care.
Gene: We found the staff to be very accommodating to my wife Patricia who had dementia.  There were activities.There were church services, sing-alongs, bingo, They just did all they could to make life pleasant for her. The staff just adored her. Our experience would not have been the same had the staff not been as helpful.
Chuck: Our experience has been outstanding.  And beyond just the day-to-day care is the availability of rehab center. There is the physical exercise part of it and there's a psychology aspect to it, too, that I think is probably the more personal part of the job. To sum the whole thing up, my experience has been that this is a people place, both the independent living and the healthcare center, and I've never known a director to be so personally involved in the healthcare center. Note: Photo above of Chuck and Mary at the Saturday Night at the Rainbow Room Dance.
Dorsie: They were very thoughtful and really nice. They helped me bathe every day and saw to it that I got my medications. My food was served; I could eat anything I wanted. My transition back was really easy. I like going back to the Healthcare Center because they treat me like family. 
Marjorie: I got my rehab at Treemont. The staff  that help you there at Treemont are very well educated and have patience, love and kindness. It's like Jesus  comes down from the mountain and he says walk and I feel like that's what happens in Treemont rehab.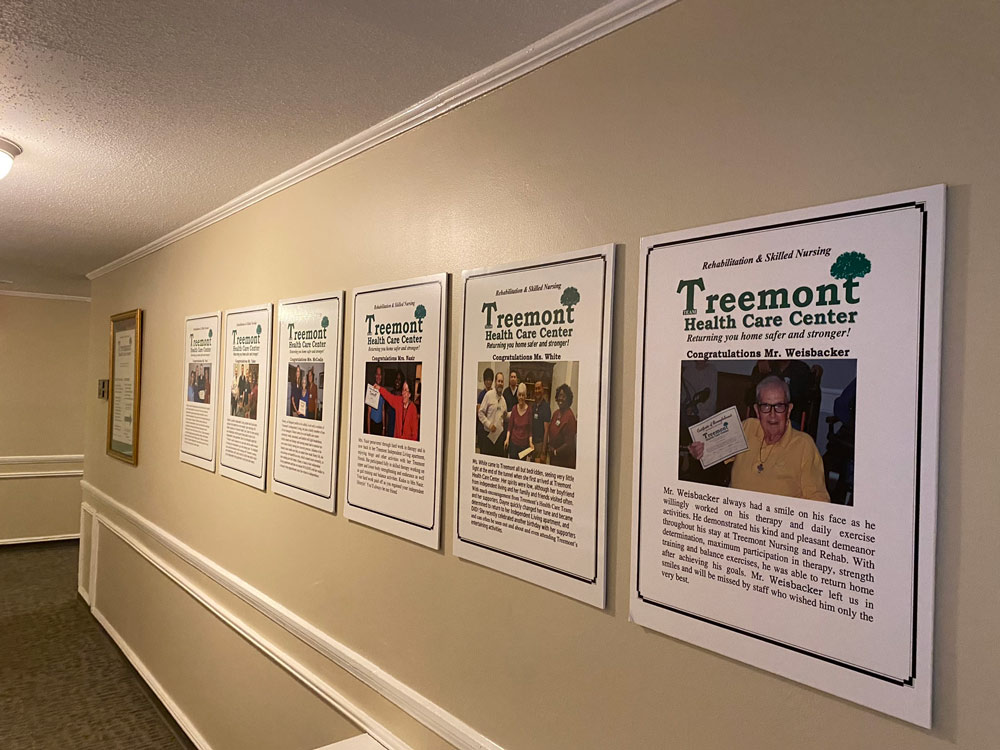 Residents often come to Treemont with hip and femur fractures, without the capability to bear weight or stand on their own. The primary goal of the nursing Therapy Team, which includes physical, occupational, and speech therapists, is to strengthen the resident so they can return to walking on their own and even return home. "The only way our residents will get better is if we make therapy fun and encourage residents to complete their daily regimen," says Jobert Macas, head of Treemont's therapy group. "Often our residents don't realize what they're doing is actually therapy. We use our creativity to make sure they complete their exercises so they can get better.
When you are in the hospital, one often has to make quick decisions on where to do your rehabilitation. Click to view How to Navigate Rehab after a Hospital Stay.
For those with longer-term needs, such as increased forgetfulness and needs for daily assistance, Treemont's Licensed Assisted Living is an excellent option. Treemont provides an individualized resident treatment plan in a quiet and intimate environment. The plan includes medication management, assistance with activities of daily living and a restaurant-like dining room environment.
This assisted living Houston facility also provides Short-Term Respite Stays to provide a needed reprieve for caregivers, while they have the peace of mind that their loved ones are in a safe and supportive assisted living Houston community.
A new aspect of this Nursing Home in Houston program is the Music & Memory Program that uses music to renew lives of dementia patients and reduce use of psychotropic drugs.
To learn more, please call Melanie Grove at (713) 783-4100 or email her at MelanieG@TreemontHC.com. Treemont is in the Memorial area at 2501 Westerland Drive.
Learn why Treemont is recognized by our hospital community for excellence in patient care.
Questions?
We are happy to help.
Call Melanie Grove, Admissions/Social Worker today.
713.783.4100
or 713.816.2033 (cell)
FAX CLINICAL INFO TO: 713-783-6669 or Email Info@TreemontHC.com.
PLEASE SEND ME MY FREE BROCHURE
Treemont Health Care Center
2501 1/2 Westerland Drive
Houston, TX 77063  MAP
Mailing Address
PO Box 631249 Houston, Texas 77263