Treemont Health Care Center recently completed an excellent survey process in May. Each year, nursing homes have an annual survey, conducted by the State of Texas Health and Human Services Commission (HHSC) surveyors. The Nursing Facility Inspection survey is an in-depth look at the facility's policy, procedures, and practices, typically by a team of 4 to 6 surveyors. The Survey includes 17 areas, including Resident Rights, Quality of Life, Resident Assessment Quality of Care, Nursing Services, Dietary Services, Infection Control, Physical Plant and Environment, and Administration.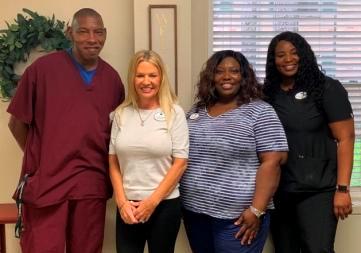 "This was a stellar survey and the best survey Treemont has had in recent years. I'm very proud of the hard work that our new Administrator Cynthia Lamison and Director of Nursing Sheree Wade have done, with the support of the full Treemont team, which is reflected in this year's survey results," says Owner Tom Witt."
According to Cynthia, "One of the surveyors made an observation that our medication technician Steven Gardner deserves an award for his work. His attention to detail and care for the residents reflect the type of devoted employee Treemont has on its team."
Treemont Health Care Center has been serving multiple generations of Houston families for 45 years. It takes a certain type of compassionate individual to care for our elderly seniors, to make sure they are treated with dignity and respect, as we would want one's own parents and grandparents to be treated. Treemont's strength lies in its long-tenured caring staff.
Treemont is also known for its outstanding rehabilitation and therapy program. Residents come to Treemont after a medical setbacks, like a complicated infection, a fall resulting in a fracture, or a stroke resulting in the need for retraining in daily living tasks.The community prides itself on providing the therapy so our Independent Living and community residents can transition back to their independent living environment. Therapist Donna Kelley states, "We tell our residents not to look at where you are now, but to look at where you are going; and before you know it you will get there."
Treemont's team makes rehabilitation fun so that residents do their exercises and get better. "The only way our residents will get better is if we make therapy fun and encourage residents to complete their daily regimen," says Jobert Macas, head of Treemont Retirement Community's therapy group. "Often our residents don't realize what they're doing is actually therapy. We use our creativity to make sure they complete their exercises so they can get better."
Let Treemont Health Care Center ensure a seamless transition from hospital to rehab to home for your family member. Come by for a tour, call Admissions Director Kelli Walleck at 713-816-2033 or KelliW@TreemontHC.com or visit www.Treemont.com. Treemont is in the Memorial area at 2501 Westerland Drive. As part of a Continuing Care Retirement Campus, Treemont offers independent apartments, assisted living and home health. "Your address doesn't have to change when one's care needs do," says Kelli. To view an independent living apartment, call 713-783-6820.
Seniors benefit from having the extra support of a housekeeper, groundskeeper, driver and personal chef. Treemont provides these benefits at a reasonable cost. Long-tenured staff help residents settle in. Residents participate in social activities and develop late-life friendships. They feel safe, appreciate extra care options, and recognize Treemont as a great value. These two recognitions are testimony to Treemont's reputation for excellence. 
To learn more, visit Treemont.com or call 713-783-6820 (independent living) or (713) 783-4100 (Kelli in assisted living) for a free lunch and tour. This is the best way to learn how retirement communities helps seniors retain their independent lifestyle.  
A good suggestion is to visit an assisted living Houston community and have lunch. To learn more about Treemont Retirement Community, call Lupe or Linda at 713-783-6820, visit www.Treemont.com or stop by 2501 Westerland Drive off of Westheimer. 
Learn why Treemont is recognized by our hospital community for excellence in patient care.
Questions?
We are happy to help.
Call Melanie Grove, Admissions/Social Worker today.
713.783.4100
or 713.816.2033 (cell)
FAX CLINICAL INFO TO: 713-783-6669 or Email Info@TreemontHC.com.
PLEASE SEND ME MY FREE BROCHURE
Treemont Health Care Center
2501 1/2 Westerland Drive
Houston, TX 77063  MAP
Mailing Address
PO Box 631249 Houston, Texas 77263