The Social Worker in a Nursing Home & Assisted Living Community has the key role of making sure our residents' varied needs are met. Health Care Center Director of Social Services Melanie Grove has been serving Treemont residents since June 2012.
Melanie's many responsibilities include:
Coordinating Resident Care Plans.
Each nursing and assisted living resident has a personalized care plan. Melanie coordinates this plan with the nursing, activities, therapy, social work team, and family. This might include coordinating dental, podiatry, and eye care needs.
Safe Discharge Planning. Once a Medicare or other resident is discharged, Melanie is responsible for making sure they are discharged safely back to their Treemont apartment or home. This might include ensuring that they get durable medical equipment such as a walker or wheelchair. It could also be making sure the senior receives doctor's orders for home health therapy, possibly with Senior Allegiance, or hospice care.
Resolving Issues. Melanie is the Treemont staffer that takes care of many issues that arise, including interaction with the ombudsman.
Activities Support. Melanie is a supportive team member. You might see Melanie at Painting with a Twist parties and assisting with the Music & Memory Program. The latter program's goal is to use personalized music to influence positive behaviors in dementia patients and reduce the use of anti-psychotic medications, thereby affecting behaviors in a positive way.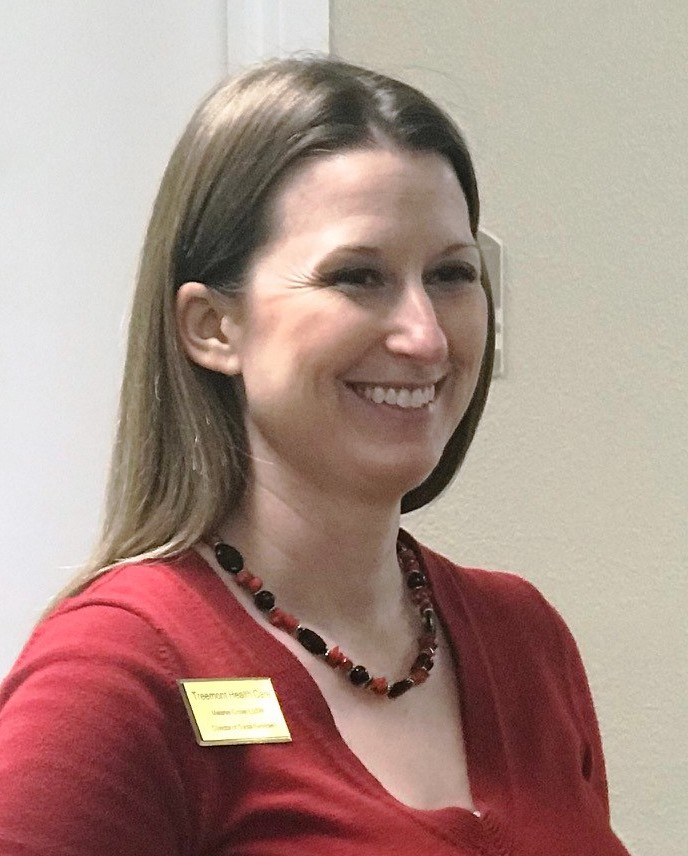 Melanie is born and raised in Houston where she received a B.A in Social Work from Texas State University. She previously worked at Brighton Gardens in Bellaire, and prior to that in the psych field. Melanie's parents and sister's family live within 15 minutes away, and her 87-year old grandmother lives independently in Alice, TX. She enjoys traveling, but is also a homebody and enjoys finding new TV series and movies to watch. The big news is that Melanie is engaged to fiancé, Joe, to be married May 17th! They have a Chihuahua/ dachshund mix named Woody.
Melanie says, "Seniors are my passion. When I went to school for social work, I thought I would work with children. During my internship for one of my classes, I ended up at a skilled nursing facility and fell in love.  I love hearing my residents' stories — where they came from, about their families, what they did for a living.  I enjoy being there to care for someone's loved one when they can't be there themselves."  
Melanie previously worked with Administrator Cynthia Lamison, who is delighted to be reunited with Melanie at Treemont. If you have questions on long-term care, a short-term Medicare rehab stay or assisted living, feel free to contact Melanie Grove at 713-783-4100 or via MelanieG@TreemontHC.com. Treemont HCC is known for: (1) its outstanding therapy program; (2) its caring staff; and (3) its small, intimate environment.
You are also invited to tour the Health Care Center and/or attend an activity event. Don't wait until you need the care. Learn more now!
This nursing home in Houston is located on the Treemont Retirement Community campus that offers independent living, assisted living in Houston as options on its senior living in Houston campus.
Learn why Treemont is recognized by our hospital community for excellence in patient care.
Questions?
We are happy to help.
Call Melanie Grove, Admissions Director/Social Worker today.
713.783.4100
or 713.816.2033 (cell)
FAX CLINICAL INFO TO: 713-783-6669 or Email Info@TreemontHC.com.
PLEASE SEND ME MY FREE BROCHURE
Treemont Health Care Center
2501 1/2 Westerland Drive
Houston, TX 77063  MAP
Mailing Address
PO Box 631249 Houston, Texas 77263