Being admitted to an Assisted Living Facility or Nursing Home in Houston can be a stressful event. Not only are you or your loved one not well, but there is a morass of rules surrounding what your insurance will cover. That is where Business Manager Anny Ortiz compassionately and knowledgeably steps in to guide your family.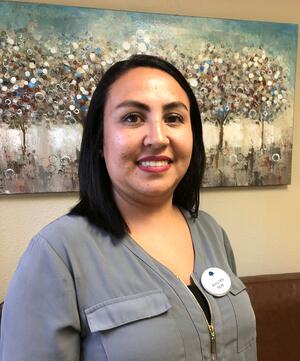 Anny's daily responsibilities include:
~  Billing and Collections for Medicare, Medicaid, private insurance companies and private pay residents.
~  Verifying Benefits. Anny creates and maintains claims for all residents, including financial folders for all admissions.
~  Advice to Residents on Financial Questions. Anny keeps residents informed of benefits or changes and provides options to them when questions arise or their insurance services are ending.  Anny investigates questions directly with the insurance or financial entity, informing the resident or family of necessary steps to achieve a positive final outcome.
~  Support of Residents. Anny is available to respond to resident questions and help them resolve concerns regarding benefits.
~  Explaining Medicare. Anny contacts residents' insurancecarriers and provides a written form detailing benefits and explains to the resident/ responsible party in a clear, concise manner so understand their benefits. Anny's door is always open.
Treemont Health Care Center recommends Traditional Medicare as it generally offers the best financial option if one is in need of nursing home care in Houston. Often specific insurance companies will only pay for nursing care at their own hospitals. If you want to stay at Treemont, the safest, most comprehensive, option is Traditional Medicare. That being said, Treemont works with as many insurance companies as possible, to seek temporary coverage for its residents.
Anny previously worked at Memorial City Health and Rehabilitation Center, starting as a receptionist and moving up in the company to Manager. Anny also worked with Sava Senior care for 6 years
Anny has a passion for working with seniors. "I want to make a difference in their lives even if it just making sure they have active insurance coverage or they are able to receive therapy through an insurance authorization. I enjoy helping our residents take care of even those small little things makes a great difference," says Anny.
Anny was born in Bogota, Colombia, immigrating to Houston seeking a better future with more opportunities. She is married with 4 children Abigail 10, Ezekiel 9, Elijah 7 and Jonny 22 months. In her free time, Anny likes to read and do outdoor activities with her children.
Treemont Nursing, Rehab and Assisted Living is a key part of Treemont's continuum of care campus. The Nursing Team works closely with Executive Director Rodney Brooks on providing rehab to his independent living residents so they can return home. Treemont Health Care Center is distinguished by: (1) its therapy program; (2) its caring staff; and (3) its small, intimate environment. Anny is warm and engaging. Families and Residents, please feel free to reach out to Anny Ortiz at 713-783-4100 or AnnyO@TreemontHC.com. Come tour the Health Care Center and/or attend an activity.
You are also invited to tour the Health Care Center and/or attend an activity event. Don't wait until you need the care. Learn more now!
This nursing home in Houston is located on the Treemont Retirement Community campus that offers independent living, assisted living in Houston as options on its senior living in Houston campus.
Learn why Treemont is recognized by our hospital community for excellence in patient care.
Questions?
We are happy to help.
Call Melanie Grove, Admissions Director/Social Worker today.
713.783.4100
or 713.816.2033 (cell)
FAX CLINICAL INFO TO: 713-783-6669 or Email Info@TreemontHC.com.
PLEASE SEND ME MY FREE BROCHURE
Treemont Health Care Center
2501 1/2 Westerland Drive
Houston, TX 77063  MAP
Mailing Address
PO Box 631249 Houston, Texas 77263