As our society's seniors live longer, many family members are being thrust into a caregiver role for a family member. Approximately 34.2 million Americans have provided unpaid care to an adult age 50 or older in the prior 12 months, according to the Caregivers in America 2016, 2015 Report by AARP and the National Alliance for Aging.
Care giving is a noble calling, a role that the son, daughter, niece, nephew, or spouse is happy to do for their loved one. Yet, if done 24/7 or if a caregiver works a full-time job and then comes home to care for a loved one, the physical and mental toll can be exhausting. Everyone needs a break. 
According to Caregivers in America 2016, 2015 Report, on average, caregivers have been in their role for 4 years, with a quarter having provided care for 5 years or more (24%). Higher-hour caregivers are twice as likely to have been in their care giving role for 10 or more years.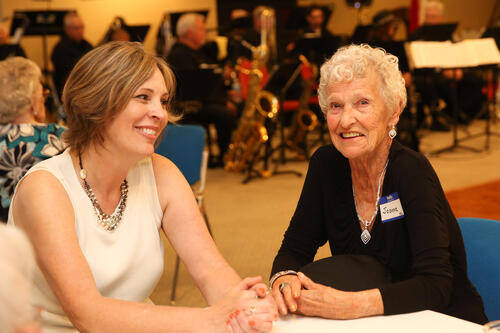 Do you see yourself in these caregiver statistics?  If so, perhaps you should consider respite care. Respite care provides a needed reprieve for a caregiver taking care of a loved one. This benefits the recipient, who continues to receive care in a safe environment. It also can rejuvenate the caregiver's mental and physical wellbeing.
The Alzheimer's Association says, "Caregiving is demanding — and it's normal to need a break. Seeking help does not make you a failure. Remember that respite services benefit the person with dementia as well as the caregiver."
Respite stays can provide the caregiver the time to run simple errands such as getting a haircut or shopping, a chance to connect with friends, and the peace of mind that your loved one is getting quality care in a supportive environment.
There are a variety of options for respite care, including assisted living facilities, personal care homes, and individual caregivers.
Most licensed assisted living facilities offer respite stays. Assisted living in Treemont Health Care Center provides assistance with personal care needs, including bathing, dressing, toileting, and grooming, in a socially engaging environment. Rates are all inclusive of incontinence supplies and also medical equipment such as canes, walkers, wheelchairs, and adjustable beds. All you have to do is pack a suitcase of clothing, provide your loved one's medication and instructions and the certified care attendants will take over.
At Treemont, respite care patients receive all the same amenities of someone in full-time assisted living. This includes cable TV, free Wi-Fi, three nutritious meals, snacks, medication management, 24-Hour supervision, housekeeping, and activities. The senior might also find the environment a bit more stimulating, with musical performances, bingo, arts and crafts, movies, parties, and the opportunity to socialize during meal times.
To learn more about respite care at Treemont Health Care Center, please call Admissions Director Crystal Luna at (713) 783-4100 or reach out via www.Treemonthc.com.  Kelli can also answer questions about long-term nursing care and how to navigate rehab after a hospital stay. If you're not sure where to turn for answers, please give Kelli a call at 713-813-2033 (cell). 
If you prefer to view more testimonials about what nursing homes in Houston residents value about their late-life decision, please click here. 
Treemont Health Care Center recommends Traditional Medicare as it generally offers the best financial option if one is in need of nursing home care in Houston. Often specific insurance companies will only pay for nursing care at their own hospitals. If you want to stay at Treemont, the safest, most comprehensive, option is Traditional Medicare. That being said, Treemont works with as many insurance companies as possible, to seek temporary coverage for its residents.
Anny previously worked at Memorial City Health and Rehabilitation Center, starting as a receptionist and moving up in the company to Manager. Anny also worked with Sava Senior care for 6 years
Anny has a passion for working with seniors. "I want to make a difference in their lives even if it just making sure they have active insurance coverage or they are able to receive therapy through an insurance authorization. I enjoy helping our residents take care of even those small little things makes a great difference," says Anny.
Anny was born in Bogota, Colombia, immigrating to Houston seeking a better future with more opportunities. She is married with 4 children Abigail 10, Ezekiel 9, Elijah 7 and Jonny 22 months. In her free time, Anny likes to read and do outdoor activities with her children.
Treemont Nursing, Rehab and Assisted Living is a key part of Treemont's continuum of care campus. The Nursing Team works closely with Executive Director Rodney Brooks on providing rehab to his independent living residents so they can return home. Treemont Health Care Center is distinguished by: (1) its therapy program; (2) its caring staff; and (3) its small, intimate environment. Anny is warm and engaging. Families and Residents, please feel free to reach out to Anny Ortiz at 713-783-4100 or AnnyO@TreemontHC.com. Come tour the Health Care Center and/or attend an activity.
You are also invited to tour the Health Care Center and/or attend an activity event. Don't wait until you need the care. Learn more now!
This nursing home in Houston is located in the Treemont Retirement Community campus that offers independent living,assisted livingin Houston as options on its senior living in Houston campus.
Learn why Treemont is recognized by our hospital community for excellence in patient care.
Questions?
We are happy to help.
Call Melanie Grove, Admissions/Social Worker today.
713.783.4100
or 713.816.2033 (cell)
FAX CLINICAL INFO TO: 713-783-6669 or Email Info@TreemontHC.com.
PLEASE SEND ME MY FREE BROCHURE
Treemont Health Care Center
2501 1/2 Westerland Drive
Houston, TX 77063  MAP
Mailing Address
PO Box 631249 Houston, Texas 77263