Nursing homes and nursing care can get a bad rap at times. Listen to Admissions Director on radio talk show 740 KTRH with Matt Patrick about how nursing homes can be a great experience. That is what Treemont resident Joanne Driscoll discovered when she was brought into Treemont nursing center on a gurney. There is nothing like a personal testimonial to educate seniors and their families on the importance of selecting a nursing home that puts a priority on REHABILITATION. Entrusting yourself to qualified, caring staff is a crucial step on the road to achieving your rehabilitation goals. This care empowers seniors to overcome medical incidents that may have otherwise diminished their quality of life. Choose a skilled nursing and rehabilitation Houston center that will provide the nursing home rehab to enhance your independence!Most residents come to a senior living or assisted living residence through the front door of independent living. In this case, one resident, Joanne Driscoll, has a unique perspective on moving to Treemont Independent Living in Houston, TX. Click here to hear Joanne's first hand account of her experience navigating various nursing homes before finding a path back to an independent lifestyle at Treemont's nursing home in Houston, TX.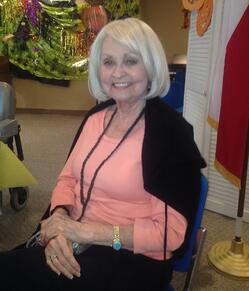 Joanne's story about how she got to Treemont Independent Living is an inspiration to seniors who have experienced a setback. She has many life lessons to provide for those with questions on whether assisted living or senior living is a good choice. Joanne also discusses the financial considerations that led her to moving to a retirement community. Joanne describes how, from a financial perspective, retirement living can not only be more carefree in terms of not having to maintain a home, but can also cost less than livng in one's own home. Many will find this hard to believe, but Joanne's testimonial is true for many residents who move to an affordable retirement home that offers an apartment-style approach to assisted living in Houston, TX rather than a upfront buy-in approach.
We are grateful to have such dynamic residents as Joanne who enjoy life and make Treemont an enjoyable place in which to reside. Thank you Joanne for all you contribute to Houston senior living and to the Treemont family! Learn more about Joanne's inspirational story!  Click here for general information about senior living options in Houston.
Learn why Treemont is recognized by our hospital community for excellence in patient care.
Questions?
We are happy to help.
Call Melanie Grove, Admissions/Social Worker today.
713.783.4100
or 713.816.2033 (cell)
FAX CLINICAL INFO TO: 713-783-6669 or Email Info@TreemontHC.com.
PLEASE SEND ME MY FREE BROCHURE
Treemont Health Care Center
2501 1/2 Westerland Drive
Houston, TX 77063  MAP
Mailing Address
PO Box 631249 Houston, Texas 77263