Seniors and their family memories are often reticent about their loved one moving to a nursing home. But if you choose the right one, the quality of life of your family member can be greatly enhanced. Each resident at Treemont Health Care Center, for example, has a "care plan" that makes sure the resident receives the best care to make their quality of life as good as their situation permits. One unique tool in Treemont's hip pocket is the Music & Memory program. 
Music and Memory (M&M) is a relatively new and innovative program at Treemont nursing and rehab, designed to use beloved music favorites that will tap into an Alzheimer's or dementia individual's deep memories, help renew their past life connections, thereby improving their quality of life. Treemont Health Care Center participated in a Texas Department of Disabilities pilot test two years ago designed to help nursing homes and assisted living Houston facilities reduce the use of psychotropic drugs  in dementia patients and increase resident socialization and interaction though the use of beloved music delivered via  iPods.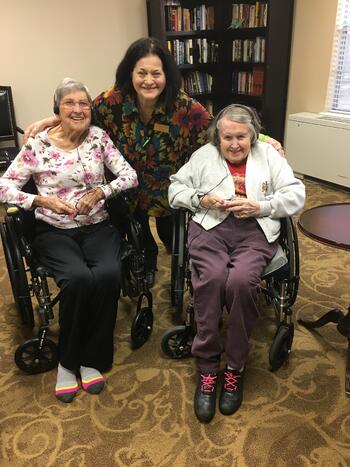 The Music & Memory program is part of the care plan for many Treemont residents and it is always exciting when the program has the desired impact on resident behavior. Treemont has a M&M Team called "The Champions," consisting of the Administrator, Activity Director, Social Worker and Director of Nursing. In March, Treemont's team documented three cases in which the team's use of the music program led to huge success stories on resident behavior and happiness.
Calm, Content and Social
Mrs. LaVeta Bradley is legally blind, with some delirium and hallucination. Her demeanor is generally stoic with a desire to stay in her room. When Treemont's Social Worker Melanie Grove placed a head set on Mrs. Bradley, the lyrics came out garbled to her, as Mrs. Bradley is hard of hearing. Melanie decided to switch the music to instrumentals. "The results were amazing," reports Social Worker Melanie Grove. "Miss LaVeta absolutely loved it. Her husband was a musician and music was very much a part of her life even though she grew up on a farm." Melanie says Mrs. Bradley was in heaven, lying there calm and peaceful. "What was most endearing for me was when I asked if she was ready for me to take the music headphones." Mrs. Bradley said, "Well, no, can I take it for a little longer." Mrs. Bradley lit up recalling happy memories of dancing with her husband to the type of Big Band (In the Mood, It Had to be You) swing music her husband's band performed.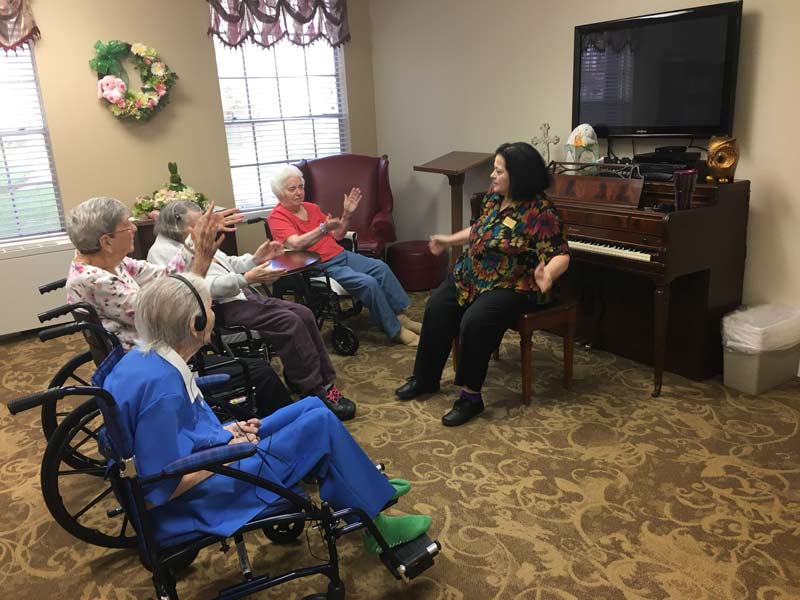 Melanie continues, "It was remarkable at our St. Patrick's Day party, Mrs. Bradley accepted a green lay, as all were wearing green. Normally she did not go out of her room and is not a happy camper. The music changed Miss LaVeta's tune, it made her so happy she wanted to greet life again!" Ms. LaVeta listened to the Irish music performers and just as the party was on the last song, she motioned to Melanie to come over. "Is it alright if we leave the party just before the crowd does?" Mrs. Bradley asked Melanie. She asked this in a very clear, happy and calm manner. Apparently she and her husband must have typically made a grand exit just before a party ended.  Before the Music & Memory program, Mrs. Bradley had spent significant time in bed talking to herself. Now, Nancy says, "She is very clear and appropriate in her speaking. The music jump started her joy," says Nancy with tears in her eyes. The new routine is that, after Mrs. Bradley's shower, in which she often becomes agitated, the Treemont staff put on her headset and the positive affect continues. When Mrs. Bradley is finished listening to her music, she tells Melanie, "I want to give this back. I don't want it to be misplaced."
Music Helps Resident Sleep
In another example, a hospice resident Mrs. Jones required music or the TV to sleep at night. Unfortunately, in a shared room, this kept her roommate Mrs. Vivian Moore up at night. Nancy spoke with Mrs. Jones about the iPod and headset and asked her permission to put on her headset. Instant success. Mrs. Jones is now listening to her beloved gospel music every night on her iPod, and eventually the staff removes he headset once she falls asleep. "Peace in the Valley!," says Melanie.
Blank Stare Turns Into A Peaceful Expression
A third example is a woman named Mrs. Goodrich who has severe dementia and no longer verbalizes or responds, with rarely a change in expression. Melanie  explained the Music & Memory program to Mrs. Goodrich and asked if she could put the head set on her. There was no response, so Nancy, after having tested the volume, put on Mrs. Goodrich's favorite Bosanova music, a type of rhythmic band which is very perky. "The music started and the look on Mrs. Goodrich's face changed. She looked as if someone was behind those eyes, and she was peaceful," said Nancy. "Like Mrs. Bradley, Mrs. Goodrich was very calm, listening to the music. The most profound thing was the change in her expression. There was substance behind her eyes, there was life there!" 
Mrs. Goodrich listened to the music for 15 minutes. When the headset was removed, Mrs. Goodrich returned to a blank stare. "There was a definite difference in her face, for someone with that advanced level of dementia," said Nancy.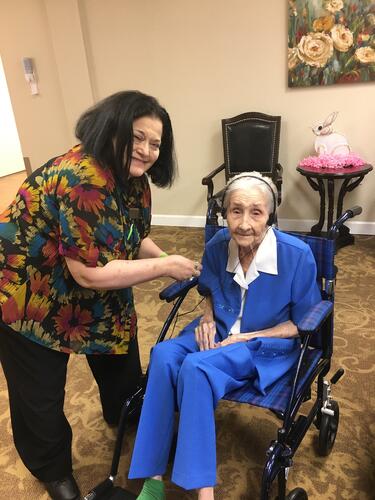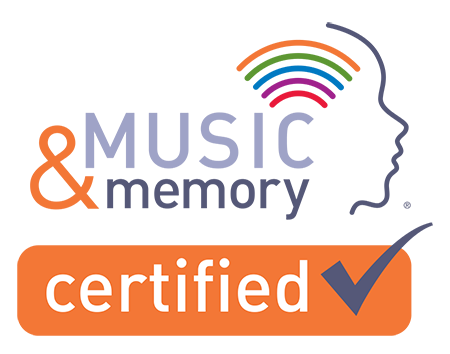 The goal of Music & Memory is to get people who are living with cognitive and physical challenges to find renewed joy in life through music favorites. For more information please contact Treemont Health Care Center Activity Director Jeanette Mitchell at 713-783-4100. 
Staff is Key to Resident Success
The most important aspect of any nursing or rehab center is the staff. You can have a brand spanking new building, but it's the caring staff who are responsive to resident care needs that give families the peace of mind that their loved ones are well cared for. Families place their trust in the team of caregivers at any skilled nursing and rehab facility. To learn more about Treemont Health Care Center's approach to nursing and rehab, please call Admissions Director Kelli Walleck at 713-783-4100. Treemont is a continuing care retirement campus, with 4 levels of care. To learn more about independent or assisted living options, please call 713-783-6820 or visit www.Treemont.com.
Learn why Treemont is recognized by our hospital community for excellence in patient care.
Questions?
We are happy to help.
Call Melanie Grove, Admissions/Social Worker today.
713.783.4100
or 713.816.2033 (cell)
FAX CLINICAL INFO TO: 713-783-6669 or Email Info@TreemontHC.com.
PLEASE SEND ME MY FREE BROCHURE
Treemont Health Care Center
2501 1/2 Westerland Drive
Houston, TX 77063  MAP
Mailing Address
PO Box 631249 Houston, Texas 77263