As Activities Director for Treemont Health Care Center (HCC), Jeannette Mitchell's job is multi-faceted. Jeannette develops all activities programming for assisted living and skilled nursing residents. Programs are designed to enhance resident's overall well-being. Jeanette's monthly calendar of events reflects a balance of activities that are reflective of physical, social, sensory stimulation, parties and special events. Jeannette also manages the HCC volunteer program.
Jeanette is a Certified Activities Director with a specialty in activities for residents at different levels of Alzheimer's and dementia. Jeannette also serves as a valued member of the Treemont Interdisciplinary Team, representing the activities and social department as a clinician.  She assesses residents in this area.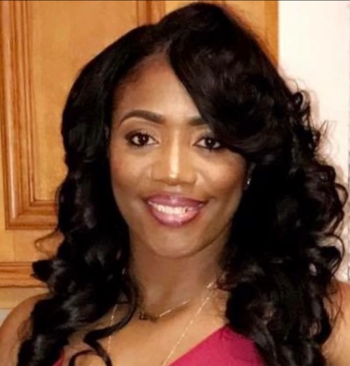 Jeannette is new to her Activity Director position, but not to Treemont. Jeannette is one of Treemont's notoriously long-tenured staff, serving our residents as a CNA since 2008!! "I attended Texas Health School and performed my training and clinical at Treemont. I fell in love with the residents and I've been here ever since."  On her own initiative, Jeannette took the Activity Director Certification class and spent 3 months as an Activity Assistant before being promoted.
"Jeannette brings a new dynamism to this position," says Administrator Cynthia Lamison. "We believe activities are central to our resident's well-being and have been impressed with the various new initiatives Jeannette has implemented, including building a Mystery Box for residents with dementia." Jeannette has also launched several programs to include Independent Living Residents, including the "Treemont Idol" show and several "Painting with a Twist" classes.
"We have many independent living residents that come for a short-term Medicare stay," says Jeanette. "They bond with staff and residents and enjoy the opportunity to visit their friends and engage in activities from painting, bingo among other programs." 
Jeannette has a passion for working with seniors. "I love to see the smiles on their faces. Sometimes it's just a familiar face and a few kind words that can brighten a person's day. I'm always grateful to assist and encourage. I enjoy overall interacting with the resident's — they're just as much as a joy to me as I am to them. They've brightened my days on many occasions. I can't imagine not being able to shed a ray of sunshine on someone's cloudy day and these resident's seem to do it for me.
Jeannette is from New Orleans, having evacuated to Houston post-Katrina in 2005. She has 3 children. She enjoys photography and is also a licensed cosmetologist.
Treemont Nursing, Rehab and Assisted Living is a key part of Treemont's continuum of care campus. The Nursing Team works closely with Executive Director Rodney Brooks on providing rehab to his independent living residents so they can return home. Treemont Health Care Center is distinguished by: (1) its therapy program; (2) its caring staff; and (3) its small, intimate environment. Jeanette is warm and engaging. Families and Residents, please feel free to reach out to Jeanette Mitchell at 713-783-4100 or JeanetteM@TreemontHC.com. You are also invited to tour the Health Care Center and/or attend an activity event. Don't wait until you need the care. Learn more now!
This nursing home in Houston is located on the Treemont Retirement Community campus that offers independent living, assisted living in Houston as options on its continuum of care campus.
Learn why Treemont is recognized by our hospital community for excellence in patient care.
Questions?
We are happy to help.
Call Melanie Grove, Admissions Director/Social Worker today.
713.783.4100
or 713.816.2033 (cell)
FAX CLINICAL INFO TO: 713-783-6669 or Email Info@TreemontHC.com.
PLEASE SEND ME MY FREE BROCHURE
Treemont Health Care Center
2501 1/2 Westerland Drive
Houston, TX 77063  MAP
Mailing Address
PO Box 631249 Houston, Texas 77263